You've got the mods and accessories, but are they really covered?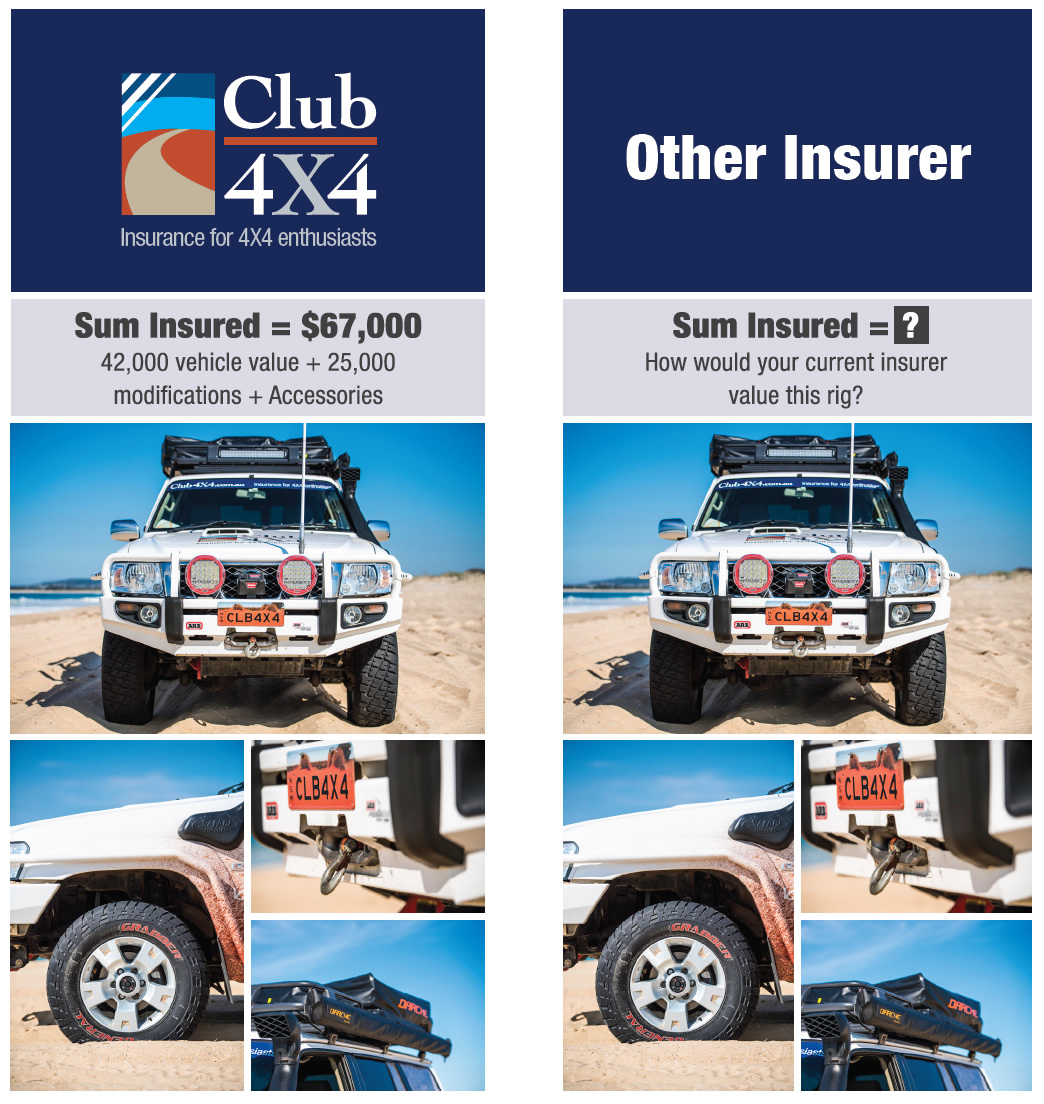 You've worked hard to get your 4X4 just perfect
Would you settle for second best on the latest accessory? Then why would you settle for second best in insuring your investment?
Club 4X4 gives you a true agreed value that recognises what you've spent accessorising and modifying your rig, so why would you consider anyone else?
Club 4X4, truly incomparable insurance for the 4X4 enthusiast

You've got the best 4X4 policy,
now what about your home-away-from-home?
60% of 4X4 owners tow a caravan or camper trailer and 90% of Caravan or Camper Trailer owners tow using a 4X4. So why would you entrust your home-away-from-home to an unsirer who is focused to an age bracket, or one that cannot cover your tow vehicle?
Club 4X4 understands the needs of the Australian adventurer, whether on road or off, you will always be well covered for your investment.
Laid Up Cover - why would you pay the same amount all year round if you don't use it all year round?***
Full cover, anywhere in Australia, on or off-road
$750 Beakdown or Accident towing cover - not sure if your roadside assistance provider will tow your trailer if your vehicle breaks down or is damaged? No problem. ****
Agreed or market value coverage - including cover for your modifications and accessories.
$1,000 automatic contents coverage. *****
$2,000 automatic coverage for your annexe. ***** Higher coverages available
Insurance issued by The Hollard Insurance Company Pty Ltd, AFSL 241436 (Hollard). Club4x4 is an authorised representative of Hollard, AR No.1235616. Consider the PDS at www.club4x4.com.au to decide if the product is right for you. Underwriting criteria apply.
*This additional benefit is subject to an excess of $200 and one claim per policy period. Vehicle will be recovered to the nearest gazetted road.
** This additional benefit is subject to a $500 excess and a limit of $1000 per item applies.
***Conditions apply and coverage during laid up cover is limited, see your PDS.
****This additional benefit is subject to a $100 Excess per claim.
*****This additional benefit is subject to a $200 Excess per claim.
The referrer receives part of Club 4x4's commission, paid by the product issuer