Sand Tracks, Sand Ladders, TRED and MAXTRAX Alternatives
Outback Australia can be a very inhospitable place. If you find yourself in the middle of a trip without being prepared for recovering your vehicle from sand, snow or mud, you might be in for a long night. So which sand ladder or track type recovery device is right for you? We've put together this comparison of products available from retail stores and online.

Despite the opportunity to use these types of products on a regular basis, many 4wd owners have accessorised their vehicles with sand ladders on roof racks, bumpers and bodywork for decades. We endeavour to show you what's available and how they perform.

Sand Ladder History
Undoubtedly, people have been making home made sand recovery devices since the development of the first motor vehicle and sand ladders are definately not a new invention. However, the first commercially available sand ladder was invented by the U.S. Army and commenced manufacture in 1941 called Marsden Matting. It was extremely functional and was primarily used for the fast temporary construction of air fields and vehicle tracks on soft and muddy ground. An estimated 800 million square feet of Marsden Matting was manufactured during World War II.
Later Marsden Matting became known as PSP (perforated steel planking) and was constructed from a magnesium steel alloy. It was also manufactured from aluminium and called PAP which weighed significantly less than it's steel counterpart. This military surplus PAP became the first sand ladders to be commonly used by 4wd enthusiasts and was popular on the roof racks of Land Rovers.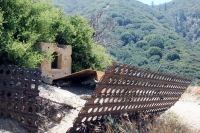 World War II Sand Ladder

Steel and aluminium Sand Ladders were used in WWII to build temporary air fields and roads. It was called Marsden Matting or later PSP or PAP. It was a quick solution to allow vehicles through soft and muddy ground.
4wd vehicle owners often still make use of these types of sand ladders and offer a military look on the outside of some Land Rovers.
Sand Ladder Usage
Traction
Sand Ladders provide grip and level crossing for a 4wd vehicle in soft, sandy / snowy or muddy terrain. The device works by creating a much larger surface than the tyres can provide. Grip is then provided by perforations or lugs in the ladder surface so the tyres can latch onto them. Surface grip of the sand ladder is most important when in wet conditions where the tyre's adhesion properties are reduced.
Bridging
If the sand ladder is rigid enough, it can be used as a bridging device to allow the vehicle to cross a deep rut or ledge. Bridging capability is desirable in a sand ladder and improves it safety. Being able to traverse washouts and ruts of considerable depth is an important feature of sand ladders.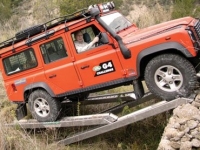 Bridging Ladder

Metal bridging ladders are used as a bridging device to span a deep rut or ledge that the vehicle may otherwise not be able to traverse. Often these devices have large bracing on the sides of them to prevent them from flexing.
The downside to the bracing is that it makes them very heavy and bulky to carry inside the vehicle. For a device so bulky, they are rarely used.
Ramps
Using a sand ladder as a ramp is not recommended as most will not be capable of supporting the weight of the vehicle as it climbs up the embankment. Often Sand Ladders are required to be doubled up in order to be used for ramps.
Alternate uses
Sand Ladders are generally large bulky items that require storage space in your vehicle that could be used for many other potentially more useful products or food and water. This begs the question: how often will I need to use them? and what other functions can they be used for in order to make them a more valuable device. Useful attributes such as acting as a camp table or being used for flooring for a shower can justify the space sand ladders take up.
Definitions
Sand Ladder
A Sand Ladder is any rigid formation of steel, aluminium or plastic device that provides some strength for use in bridging and ramping also.
Sand Mat
A Sand Mat is a soft carpet-like device that is flexible and includes a variety of rubber matting and rolling segments.
Bridging Ladder
Often Bridging Ladders are far more bulky and maintain a lot more strength when used in bridging or ramping configurations and their size should be considered when purchasing.
Products
Steel and Aluminium Sand Ladders
There are many options in this category including Mantec Sand Tracks available from mantec.co.uk and the Sand Ladders from sandladder.net. These are replicas of the traditional PSP or PAP used by the military. They are often very large and bulky items and can be found to be slippery in wet circumstances due to the smooth surface of the top of them.
Sand Ladders look right at home on the roof of a Land Rover Defender. They have a distinct advantage in sand by being the widest and longest of all devices available and allow for enough momentum to keep the vehicle moving until free of the soft stuff.
While they are not intended for bridging and ramping, when doubled up, the steel and aluminium sand ladders can be used for this purpose.
Pros:
Good Sand Performance
Many alternate uses such as shower floor, roof rack floor, camp table etc.
Effective bridging device
Classic rugged appearance
Cons:
Smooth surface reduces traction in wet conditions.
Large size makes the pair difficult to store.
Bridging effectiveness limited to a stacked pair and standard 4WD weight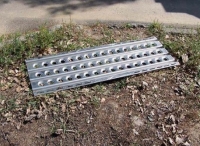 Steel & Aluminium Sand Ladder

The most commonly available metal sand ladder is now made of aluminium. They are a large area pressed aluminium form which can be bulky to store inside your vehicle.
Metal sand ladders are at distinct disadvantage when in slippery or wet circumstances due to their very smooth surface.
Rubber, Carpet and Inflatable Sand Mats
This section covers a number of products including Lift Trax, X-Trax and a variety of home made solutions such as strips of carpet or shadecloth sewn into lengths for use in sand recovery.
The Lift Trax is the most unique of these devices and is marketed as a traction mat in the sand as well as a bridging and ramping device. It is a bladder of air that is inflated using your mouth or an air compressor.
X-Trax and other recycled car tyre type mats are made from steel wire used to cable strips of rubber together to form a long mat to drive on. Similar in performance to strips of carpet or shade cloth, the X-Trax also provide limited support in sand and cannot be used as a bridge device.

Pros:
Easy to store.
High-quality construction.
Lightest, most compact recovery device.
Cons:
Vehicle can tend to slip sideways if not properly positioned on the recovery tracks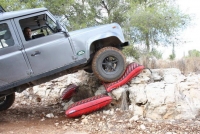 Pillow Track / LiftTrax
Inflatable recovery tracks are a unique and new invention. They are marketed as an all in one recovery device. They have a distinct advantage being the smallest item to store in the back of your 4wd.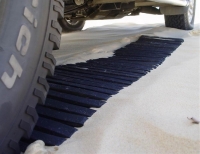 X-Trax / Rubber Sand Mat
Recycled rubber sand mats have been around for a long time. They are made of strips of car tyre bound together with steel wire. They roll up into a neat package for storage however don't perform as well as other devices.
As the vehicle drives onto the mat it tends to slip off sideways causing the vehicle to become stuck again.
Plastic Sand Ladders
Plastic Sand Ladders are far more recent products to surface including the likes of MAXTRAX available at maxtrax.com.au and other cheaper alternatives like Tough Tracks available from toughtoys.com.au and are the modern day sand ladder.
Moulded in high visibility orange Fibre Reinforced Plastic, they stand out as a light weight, easy to handle alternative to the steel and aluminium counterparts. With moulded lugs for grip on the top and underneath, they work brilliantly for easy sand and mud recovery.
Pros:
Best performance in mud and wet conditions
Lightweight, at 18 pounds for the pair
No sharp edges
Cons:
Difficult to mount and store
Limited capacity for ramping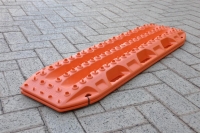 MAXTRAX
MAXTRAX are molded plastic recovery devices that are designed for use primarily in sand. They have lugs on top and underneath for gripping the tyres in slippery situations.
As the car starts to move, the device digs into the ground and forms a grip surface for the tyres.
Visit the
MAXTRAX Recovery Device
page for more information.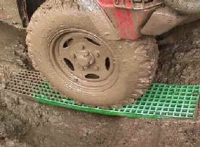 Fibreglass Recovery Tracks / Waffleboard
Fibreglass recovery tracks or waffleboard are often cut up pieces of roofing safety equipment from industrial sites. It is made from strands of fibreglass with a very rough surface to maximise grip.
The downside of these devices is the inability to carry without gloves. The bare fibreglass / rough finish makes them leave fibreglass remains in your skin and becomes itchy or irritated.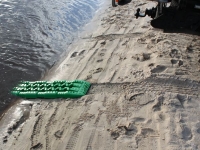 TRED Recovery Ramp Tracks
TRED recovery ramps are made from moulded plastic and are available in lime green colour. They have smaller lugs than most other competing recovery devices.
These tracks are shorter than their competitors which may make them easier to store but potentially more difficult to escape a large boggy area.
Visit the
TRED Recovery Device
page for more information.