Caravan Parks Australia Wide
A caravan or motor home is a great way to travel round Australia; it's cheaper than staying in hotels, and even better it gives you the flexibility to stay where you want, as long as you want. Fancy changing your plans? No worries; just do it. All you need is a good guide to caravan parks and you're all set.
Well, this is a good guide to caravan parks. The companion to the excellent Camps Australia Wide, this book gives you all the information you need on 2,320 caravan parks through the entire country.
Based around the latest Hema road atlas, every location where there's a caravan park is clearly marked with a numbered caravan symbol. Check the number, turn to that entry and everything you want to know is there. Each entry includes a full facilities list, covering pools, BBQ, the availability of powered sites and tent pitches, even if the site's pet-friendly. Where parks take part in the AAA scheme their star rating is listed. If you're driving a big motor home you're covered too; parks with large sites and dump points are noted, so you'll know exactly what to expect when you get there. The outstanding maps, plus GPS coordinates for every park, mean getting there's dead easy too.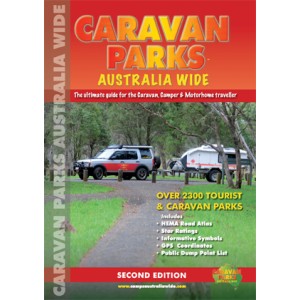 Details:
Size: 215x297mm
Pages: 328
Edition: 2nd
Published: 2011
ISBN: 9780975001790
CARAVAN PARKS AUSTRALIA WIDE

The Australia Wide Series are the ultimate guide for the budget and freedom conscious traveller and the perfect travel companion.
Click here to buy one of the
Caravan Parks Australia Wide Series
.
Get In Touch
Please use the form below to contact Tough Toys via email.
Advertising
---