Australian Regional Atlases And Guides
The Hema Regional Atlases & Guides offer essential information on a variety of major regions throughout Australia.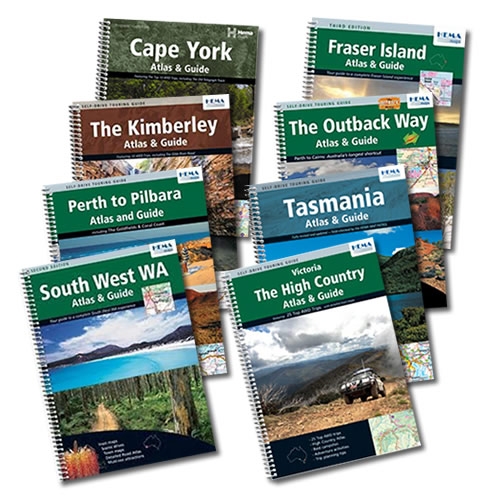 Cape York Atlas & Guide
In its 3rd edition, the Cape York Atlas and Guide is the ideal companion for anyone considering a trip to the Cape. The atlas now includes the Top 10 4WD Trips, as well as other features that include planning your trip, land and water-based activities, and in-depth coverage of Cairns to Cooktown, Peninsula Development Road, Telegraph Track and Bypass Roads, Northern Peninsula Area and Torres Strait, and the Gulf Savannah. Top 10 4WD Trips:
CREB Track
Palmer River Goldfields
Cape Melville NP
Rinyirru (Lakefield) NP
Mungkan Kandju NP
Kutini-Payamu (Iron Range) NP
North of Weipa
Old Telegraph Track
East and west of Jardine River
The Tip
Fraser Island Atlas & Guide Hema
Fraser Island is a unique part of Australia, so it makes sense to have a unique guide. HEMA's Fraser Island Atlas & Guide offers essential pre-trip information and tips for maximising your Fraser Island experience.
4WD trips
GPS locations
Resort maps
Fishing spots
Bushwalking
Best campsites
Full road atlas
Inset maps
Must-see attractions
Kimberley Atlas & Guide Hema
The Kimberley Atlas & Guide is filled with detailed mapping and expert information from travel writer Denis O'Byrne, including the best things to do and must-see landmarks and locations in the Kimberley region.
4WD trips
GPS locations
Best campsites
Full road atlas
Inset maps
Must-see attractions
The Outback Way Atlas & Guide Hema
Another in Hema's series of outdoor guides, The Outback Way Atlas and Guide provides you with a wealth of information for travelling and enjoying the Outback Way – from Perth to Cairns. Travelling across the centre of Australia, the Outback Way is fast becoming one of Australia's most iconic outback tourism and adventure drive experiences.
Detailed strip maps for the entire route from Laverton to Winton – from Hema's best-selling Great Desert Tracks maps
Handy atlas for Perth to Cairns
Town maps for Laverton, Yulara, Alice Springs, Boulia and Winton
Planning and preparation tips, including vehicle preparation and bush survival
Geocaching & the Outback Way-Finder Trail
Suggested itineraries & 4WD tracks linking into the Outback Way
Accommodation options from rooms, managed caravan parks and campgrounds, to the best roadside camps
Aboriginal culture & art centres
Background reading on the region's bioregions, flora and fauna
Camp Oven Cuisine & Games and activities
Perth to Pilbara Atlas & Guide Hema
A great guide for a fantastic adventure drive, Perth to Pilbara covers the area north of Perth to just south of the Kimberley, with enough expert tips and advice to see you through your journey safely with fond memories of your 4X4 trip.
Tourist drives
Full road atlas
Inset maps
What to see and do
Must-see attractions
South West WA Atlas & Guide Hema
This guide offers invaluable information on South West WA's broad range of attractions, with the new addition of 24-hour fuel stops, caravan parks, camp areas and points of interest.
Scenic drives
Town maps
Full road atlas
Inset maps
Must-see attractions
24-hour fuel
Caravan parks
Camp & rest areas
Tasmania Atlas & Guide Hema
Get more than you bargained for with this great guide to Australia's most southern state, with a well-rounded take on the best things to see and do in Tasmania. Whether it's taking a bracing walk up Cradle Mountain, wine tasting in Freycinet, or immersing yourself in the convict past, HEMA's Tasmania Atlas & Guide will get you there.
Best walks
Scenic drives
Wineries
Full road atlas
Town maps
Must-see attractions
Victoria The High Country Atlas & Guide Hema
The High Country Atlas & Guide is part guide, part travel companion. The Top 25 4WD Trips is an exciting prospect for those wanting to take on the very best trips the High Country Victoria has to offer, with inset maps, photos, as well as directions and explanations for every step of the way. There is a lot of pre-trip preparation included also, with information on where and when to go for the best outdoor experiences, as well as how to prepare and where to stay. Included on the 'things to see and do' list are the many iconic huts and historic sites in the region, with background information and atlas references making finding these famous sites simple.
High Country Atlas
25 Top 4WD Trips
Best campsites
Adventure activities
Trip planning tips

Get In Touch
Please use the form below to contact Tough Toys via email.
Advertising
---