Bellthorpe National Park
Bellthorpe Bliss
Bellthorpe National Park is located in the Conondale Range at the southern end. The forest is quite rugged with many waterfalls, rainforest and wildlife to be seen as the trail follows Stony Creek. There are forest tracks available for walking visitors but being prepared and self sufficient is recommended. Although close to Brisbane, be aware that mobile phone reception may not work in this area.
Four Wheel Driving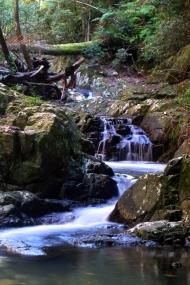 Bellthorpe National Park 4wd tracks range from easy to advanced. Each track through the park is sign marked with the difficulty of the track. The region consists of gravel roads, fire roads and forestry management roads. Driving the area provides some great scenery with challenges such as water crossings, hill climbs and descents into open eucalypt and rainforest.
We set off from the Stony Creek day-use area where there is facilities and a fantastic swimming hole. Unfortunately for us, a heavy downpour the week prior to our trip had flooded the area making it impossible to swim. We encountered our first setback with a road closed sign on the upper track, however the lower track was open so we tried our luck.
No further than 50m down the track, we were stopped in our tracks at what looked to be an incredibly fast flowing water crossing. We weren't going to take any risks driving into flood waters, but this would have ended our day. I hopped out of the car to walk the crossing. To my suprise it was only ankle deep and had a firm concrete bridge base. With adrenaline pumping, we forged through the crossing with no traction issues. All was well.
A steep muddy ascent then followed until we arrived at our next obstacle. A fallen tree lay in our path. Luckily I'd brought my chainsaw along! For the next half hour, we cut up the fallen tree and cleared the track. I then winched the tree out of the way and we were through. We encountered a multitude of small water crossings. One of which served as a beautiful spot to serve up lunch. We sat around the fast flowing cascading water and talked about how good the trip had been so far.
The best part about Bellthorpe National Park is that each fork in the road we arrived at was clearly marked with the difficulty of the track. We took a variety of easy to difficult tracks along the way and had a ball! The next chance I get, I will be heading to Bellthorpe for another trip for sure!
Entry to the 4wd tracks is best from the Stony Creek day-use area or via Wrights Rd from Woodford.