Ben-DEATH-ra - Bendethera Valley Deua National Park
After many years of 4wd experience including Moreton Island, Simpson Dessert Crossing and Blue Rag Trek I was not prepared for what was about to happen to our camp when we decided to go to Bendethera for the weekend.
Leaving on the Friday myself and partner in my Trusty D40 followed my good friend and is Partner in his GU patrol. We had some slight rain as we descended into the camp ground which didn't seem to bother us as the tracks were quite good. We made our way deep into the camp grounds approx 5 river crossings in and set up camp.
At this stage the rain had become heaver and was settling in however un-detoured we stayed in camp and enjoyed the Friday night and Saturday walked to the Bendethera Caves... In the rain with Leaches, just to make it interesting.
As we cooked dinner on the Saturday night the rain was continuing and not easing in any way, we began to dig trenches around our camp to keep the water out and also pondered our exit the next morning. Bendethera is tricky in the wet and by this stage we had had about 250mm in 24hrs. Camped next to the river we were awoken at aprox 6am by the sounds of water rapids as the river had risen over 1 meter over night and was encroaching our camp.
We quickly packed up camp and thought it best to start the climb out of the camp ground as we knew it would be tough and muddy. I lead the way out as we went through the first two river crossings, they were challenging but achievable, as the rain was still falling we arrived at what could only be described as a torrent of water that had swelled the river from a normal 10m crossing to about 40m of running river.
Backing away I decided that we needed to try to walk it first, this proved impossible however my travelling companion had full faith in his Patrol and decided to give it a go, before I could get straps ready he was off. Into the river and he got about 5meters in when the river picked the Patrol up and sent it down river and wedged it against a fallen tree.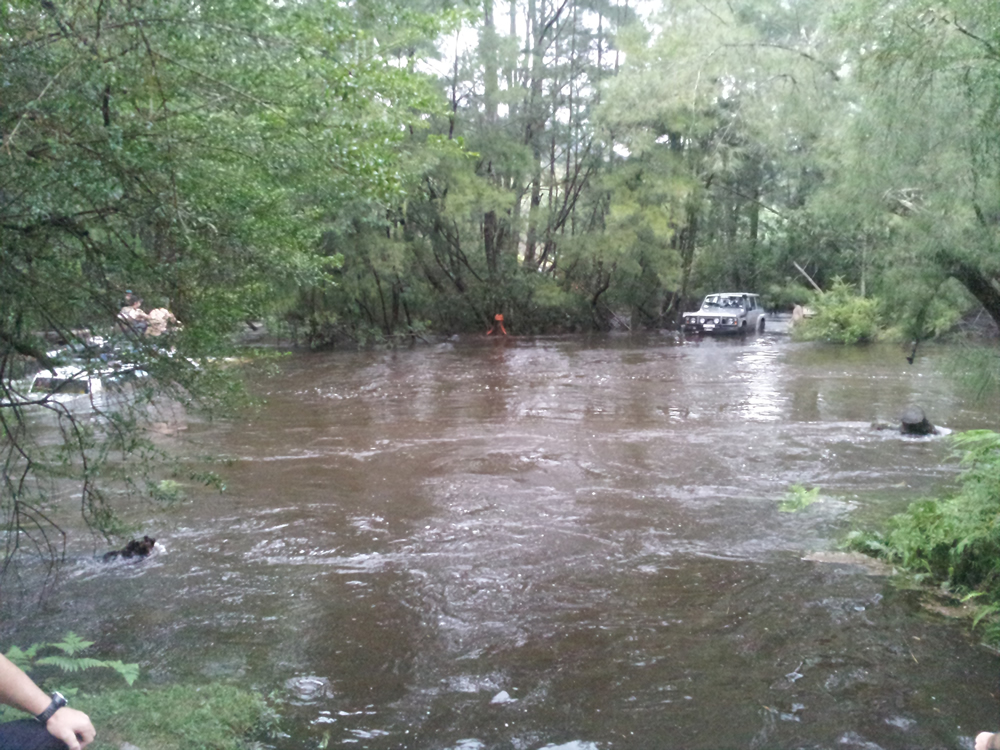 The vehicles electrics eventually gave way and the windows and doors locked, fortunately the occupants had made their way onto the roof rack. At this stage a small level of panic was in play as I tried to my best to get two straps joined together to the stranded vehicle, we managed to get the straps to them but the current was too strong for them to try and hook the strap to the front or rear of the Patrol that was now 60% underwater. Lost for ideas, some fellow 4x4's came along on our side of the river and on the other side, much to our surprise the aussie spirit kicked in and all hands were on deck to get the vehicle and occupants out of the river safely.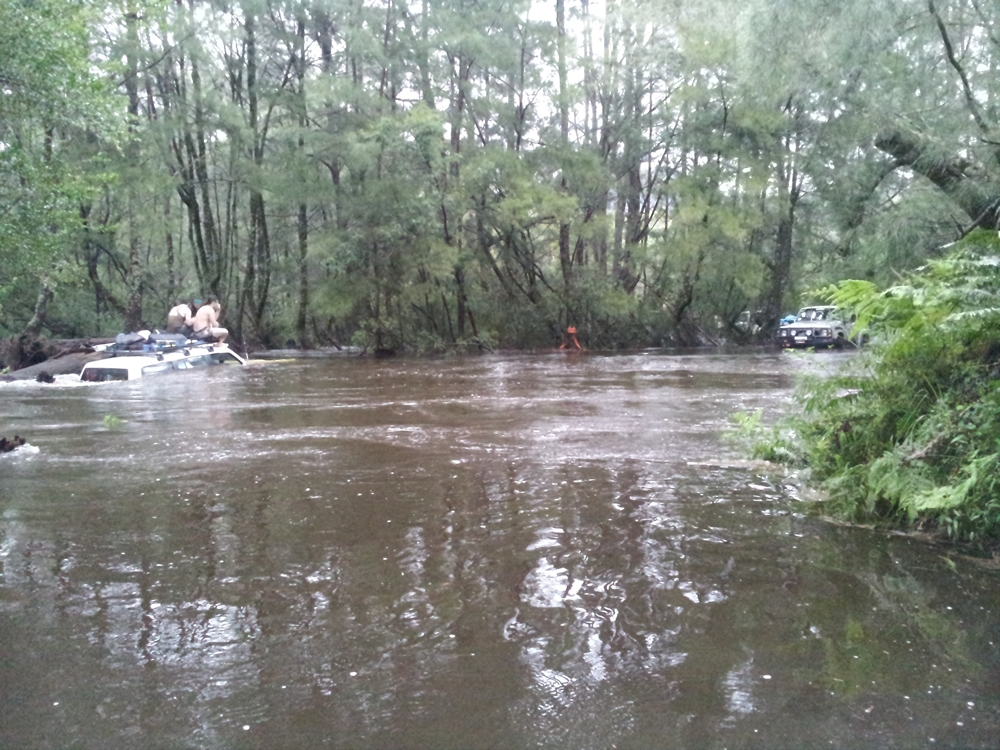 With one big winch truck and two anchored trucks everyone worked together to eventually pull the waterlogged Patrol to the other side along with the two wide eyed occupants still on the roof rack. Being the only way out our travelling party was now stranded on opposite sides of the river and we would have to wait 24hrs before giving the crossing a go ourselves. As there are no phone services available we were at a loss as to how we would notify our families of our position, it was now Sunday night and they would have been getting worried.
Then over our UHF cam a voice from the other side of the river, "Dean are you on channel this is Mud Duck... over". Our new friend and fellow 4WDer had a HF radio and he was going to get a message out via a relay station who would then make a few phone calls for us. He did, and that was a huge relief for us, once again the kind hand of Aussie four wheel drivers shines through.
After waiting the night out it was now Monday morning and the rain had stopped, revealing blue skies and renewed enthusiasm. We waited until 2:30pm to attempt the river crossing which by this stage had dropped about a foot and was still running very well but with less aggression. As we had now made some new friends while being stranded on one side we would all work as a team to make the crossing.
There was us in my Navarra D40, a Triton with camper trailer and a 4.2 GU patrol. We managed to get Mud Duck from the othersider to back down into the river and we used a 30m Extension strap to attach to our cars, this was very reassuring in the case if we were to get washed downstream the tow vehicle could pull us out.
As it turned out the tow vehicle was not needed, we were all able to push our way across the river even with the water level over the bonnet... Thank god for snorkels and tarps.
After many high fives and celebrations we through that was it but we still had 2 more river crossing that were just the same to cross, by this stage our travelling party had become 3 camper trailers a Patrol and myself in the Navara. We had to leave the water logged Patrol in the valley and load as much of their belongings into the Nav along with our friends to make the journey back home.
Nedless to say we still had the huge climb out of the camp grounds but that didn't seem much at all after what we had been through. The 5hr trip home was a quite one with many reflections and What If's. We have learnt a lot about river crossings, met some fantastic people who we are still in contact with and most of all it has not dampened our love of four wheel driving and camping, if anything it is fantastic to know that there are people out there who are still willing to help out.
-Dean Kinlyside