It's Only A Creek - Kanangra National Park
UHF Channel 10 crackled as the Land Rover Discovery 300tdi edged down a fire road in the Kanangra National Park. The Toyota Prado D4D idled calmly behind waiting for final instructions whilst the v6 Jeep Wrangler Rubicon rumbled behind waiting for its turn... Our three vehicles, fully kitted for a weekend away exploring Kanangra National Park, were being driving by passionate overland enthusiasts wanting to escape the dull life of Sydney.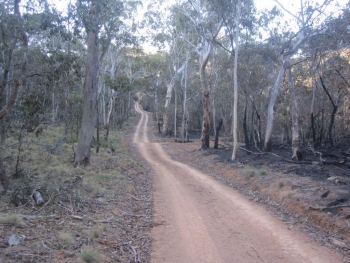 Following NSW topographical maps, we traced lines down beautiful fire roads and monumental sights. Until the Prado got a puncture on the smoothest fire road... No spare needed as the tyre repair kit was pulled from the recovery box and a plug fitted to the hole. A few of us were skeptical but impressed that the tyre repair kit worked so well.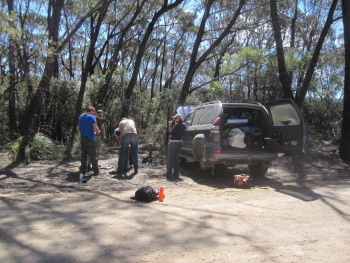 Departing the remote Dingo Dell campsite, we followed a fire road leading to a creek. The road flexed the suspension and tested the Discovery automatic gearbox. Low range 1st, difflock on, and a light touch to the brakes eased the aged Discovery down the hill. "It's only a creek" stated the Prado driver. "And I have a winch to recover you with".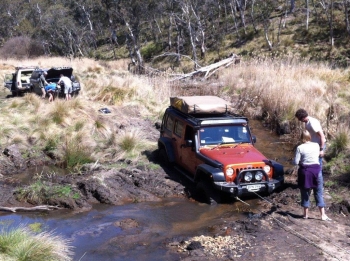 The Jeep, fitted with mud terrain tyres was asked to go first. Opting for the better of the two lines, she wallowed in and promptly sunk to her axles. Prado owner was ecstatic. Time to winch. But the winch failed at the 1st attempt and refused to engage the motor. 'Click click click' it went with no affect.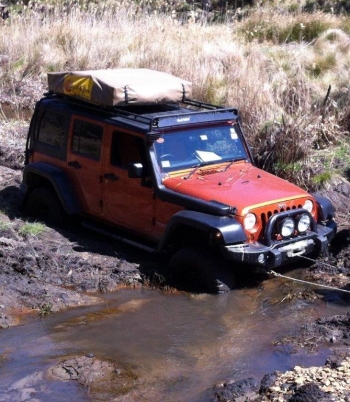 The Jeep had a winch as well and so the process of recovery started. With only a single winch, and no recovery tracks, the process took 2hours of digging, winching, digging and finally a wood ladder was laid to give traction. Problem now arose. One vehicle on the one side of the creek and the two other vehicles on the opposite side... and no way across!
The story ends with GPS coordinates entered into the three GPS units and strict instructions on how to rendezvous at each point until we meet again... Moral of the story: Check your winch, think the recovery through and be sure to relax and have a cuppa tea before the work begins! ps - the Land Rover would have made it across ;-)