Central Region Vicmap
If you like the outdoors central Victoria is somewhere you shouldn't miss. The region is easy to get to from Melbourne but there are still plenty of great tracks to explore and places to check out. Head up into the mountains or cruise along the coast roads, and make the most of the national parks. The Goldfields are one popular destination,
These maps are the same ones as used by emergency services and there's a huge amount of information packed in. This book covers from Apollo Bay north to Natte Yallock and from Dundly and Maiden east to Buxton and Woods Point.The standard mapping is all at 1:100,000 scale, so it shows plenty of detail, and a lot of areas are covered at 1:50,000 too. If you're looking for maps that are as good for hiking as for picking your way along a 4x4 trail, these are the ones. You'll even find larger scale town maps, with street names marked up. It takes in Bunyip, the Brisbane Ranges, French Island and plenty more and it does it in unbelievable detail. Road surface states, water sources, emergency service locations - it's all there, as well as more fun stuff like wineries and state parks. These Vicmap books go perfectly with any regional map or road atlas.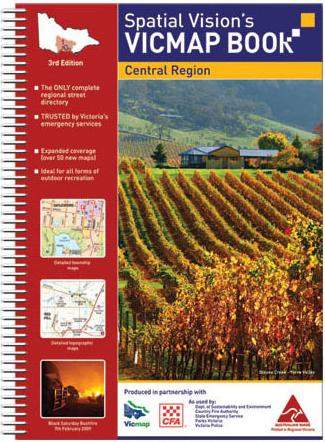 Details:
Size: 340x240mmmm
Pages: 428
Edition: 2nd
Published: 2012
ISBN: 9780987185624

Spatial Vision

Spatial Vision publishes and distributes a comprehensive suite of commercial map products.
Click here to buy one of the
Spatial Vision Series
.
Get In Touch
Please use the form below to contact Tough Toys via email.
Advertising
---