South West Vicmap Book
South west Victoria has some of Australia's most spectacular coasts, all easily accessible from the Great Ocean Road. Head inland and you'll find native forests full of Australian wildlife, caves in the Mt Eccles National Park, the historic wool town of Hamilton and loads more. If you live in Melbourne it's a really easy region to reach, too. It's well worth getting yourself some good maps and heading down for a look.
When it comes to maps, of course, it's hard to beat Spatial Vision's Vicmap series. These are the maps used by the emergency services and they've all been fact-checked by the CFA, so you'll have a struggle finding anything more accurate. The detail is amazing, too. This book covers the whole region at 1:100,000 scale, then adds dozens of 1:50,000 pages for areas of interest and even town maps at 1:20,000. Every page is full of practical information like water sources, road surface types and emergency service locations, as well as more fun stuff like national and state parks and wineries.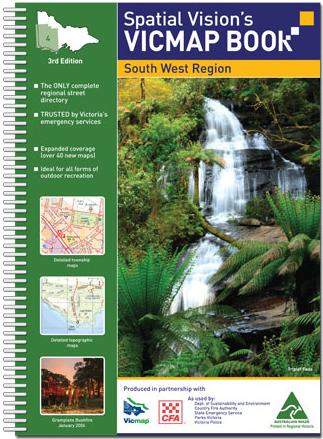 Details:
Size: 340x240mmmm
Pages: 426
Edition: 3rd
Published: 2011
ISBN: 9780980847352

Spatial Vision

Spatial Vision publishes and distributes a comprehensive suite of commercial map products.
Click here to buy one of the
Spatial Vision Series
.