North West Vicmap Book
You could do a lot worse than north west Victoria if you're looking for a break. Murray-Sunset National Park is popular with hikers and 4x4 enthusiasts, and the Kooyoora State Park has some great forest routes and rugged granite outcrops. The Murray River supports wineries and there are top bushwalking areas all over the place. All you need is a good map, and we think this Vicmap book from Spatial Vision is pretty hard to beat.
The Vicmap mapping is also used by the emergency services and it's the most accurate you'll find. The whole north west area of the state is covered at 1:100,000 scale and there's 1:50,000 sheets of interesting areas. Town maps are even larger scale and the detail is amazing. You'll also find surface information for all routes so you know exactly what you're getting into, plus the locations of water sources, parks and plenty more. This book basically gives you topographic maps for the whole region in one handy package, and for anyone who likes to know where they are it's pretty hard to beat.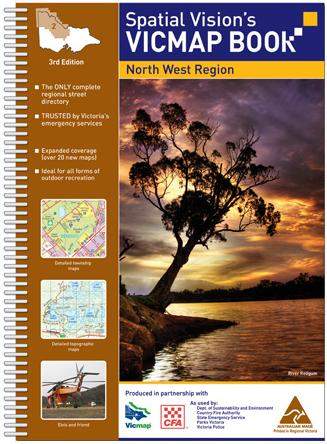 Details:
Size: 340x240mmmm
Pages: 420
Edition: 3rd
Published: 2010
ISBN: 9780980847338

Spatial Vision

Spatial Vision publishes and distributes a comprehensive suite of commercial map products.
Click here to buy one of the
Spatial Vision Series
.