North East Vicmap Book
Get up into north east Victoria and we guarantee you won't be bored. Skiing, hang gliding, fishing and bushwalking are all on offer, and of course there are plenty of great tracks to explore in your 4x4. The weather is very seasonal and can affect tracks, so it's handy to know exactly what you'll be driving over before you get there, and that's where the latest version of Spatial Vision's fantastic Vicmap book comes in.
The Vicmap series are the same maps used by the emergency services, and they're based on the latest and most careful surveys of the area. Just about everything is marked up on the 1:100,000 base maps, and if that isn't enough many areas are covered at 1:50,000 or even larger scales. Highway distance markers, water sources, state parks and everything else the surveyors could find are there, plus loads of information about road surfaces; carry this book in your truck and you're not going to be surprised by mud. The maps in the North East book cover both banks of the Murray River from Wangaratta south to Marysville and from Benalla east to Wandilgong.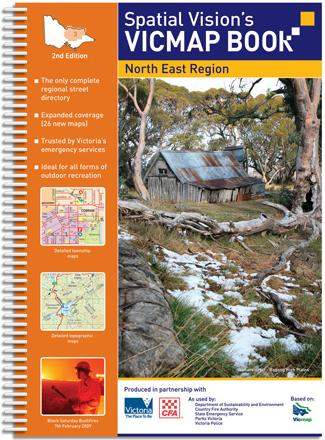 Details:
Size: 340x240mmmm
Pages: 404
Edition: 2nd
Published: 2011
ISBN: 9780980847390
Spatial Vision

Spatial Vision publishes and distributes a comprehensive suite of commercial map products.
Click here to buy one of the
Spatial Vision Series
.