4wd Treks Close To Sydney
Sydney's a great city, but sometimes all you want to do is jump in your truck and head for somewhere quieter. Luckily you don't have to go too far; just a few hours and you can swap the city for forests, mountains or a beach. Whatever you're after you can find it close to Sydney, and the latest edition of this great guide by Craig Lewis and Cathy Savage will make it easier than ever.
The 5th edition has been expanded and now lists 18 fantastic treks, all ideal for a few hours' break or a weekend away. Every route description tells you how to complete it in both directions and there are also GPS coordinates in both lat/long and UTM. Routes listed include the Bridle Track, the Watagan Mountains, Baal Bone Gap, Yengo National Park and Stockton Beach. Lewis and Savage are experienced trekkers and great writers, and they've put all that together to describe some outstanding routes. You'll also find tips on the best places to camp, fish, swim or just chill out. If you live in or near Sydney you don't want to be without this book.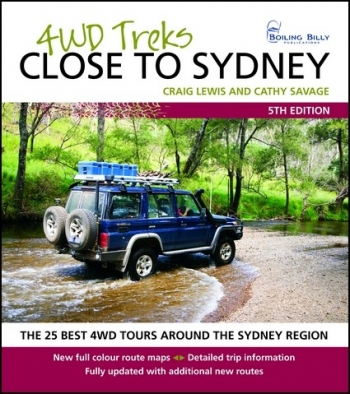 Details:
Size: 195x220mm
Pages: 160
Edition: 5th
Published: 2010
ISBN: 9781921606137

4WD Treks Sydney

The best 25 4WD treks within a few hours of Sydney are listed and detailed in this guide.
Click here to buy
4WD Treks Sydney
.