The High Country 4wd And Camping Guide
The High Country of Victoria and New South Wales has some of Australia's most spectacular scenery. Mountains and snow make it popular with skiers in winter, and the rest of the year it offers fishing, hiking, rafting and a lot more. Rugged terrain and great trails mean it's ideal for 4x4 expeditions, too. Craig Lewis and Cathy Savage have teamed up to write another great guide, aimed at helping you make the most of this area's opportunities for fun.

Completely revised for the new edition, this book now lays out 20 outstanding routes. They're all described in both directions, giving you the choice of where to start. You'll also find piles of information about what you'll find along the way, including local history, attractions and facilities. Routes include Cobbler Plateau, Camp Oven Gap, Wombat Amble, Crooked River and Buckland Valley. Every track has GPS locations listed, so you'll have no problems with navigation. As a bonus the new edition has a camping guide which lists all the designated campsites - over 200 of them - complete with facility information. If you want to explore the High Country this book has everything you need.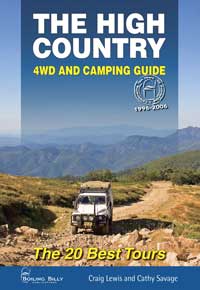 Details:

Size: 170x245mm
Pages: 192
Edition: 2nd
Published: 2007
ISBN: 9781876296339

The High Country

This guidebook takes you through the very best 4WD destinations of the New South Wales and Victoria High Country.
Click here to buy
The High Country
.
Get In Touch
Please use the form below to contact Tough Toys via email.
Advertising
---