4wd Explorer Map Pack


Hema's regional maps are building a great reputation among 4x4 enthusiasts, and so they should be. Clearly printed and now using GPS surveying for the most accurate road and track layouts you'll find, they pack in a huge amount of useful information. Wherever you want to go in Australia, the way to make the most of it is with one of these top quality maps.
Now Hema have put together the 4WD Explorer map pack, with twelve of the most popular sheets in one handy folder. Covering some of the best destinations for anyone who likes to get out and about these maps show you camp sites, fuel stops, points of interest and all the best 4x4 tracks, as well as guides on what to see, contact information for national parks and plenty more. With this pack you get these sheets:

- Cape York
- Central Australia
- Flinders Ranges
- Fraser Island
- High Country
- Kimberley
- Outback NSW
- Pilbara
- Queensland's Outback
- Red Centre
- Top End & Gulf

The full package is a sturdy folder in hard plastic board covers, with protective pockets for each map. This lot should be enough to keep you busy for a while.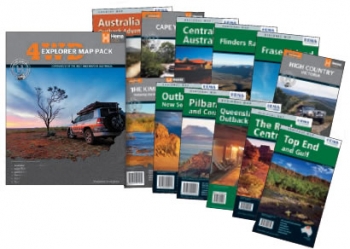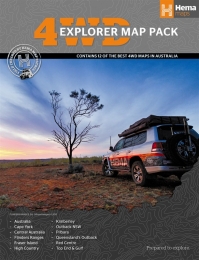 Details:
Size: 277x220mm
Pages: 12 (maps)
Edition:
Published: 2012
ISBN: 9781865000794

4wd Explorer Map Pack

In the country with the best and most active 4WD community, it makes sense to have a map pack that covers the best 4WD destinations.
Click here to buy
4wd Explorer Map Pack
.
Get In Touch
Please use the form below to contact Tough Toys via email.
Advertising
---