Great Desert Tracks
It goes without saying that a 4x4 is the perfect vehicle for crossing a desert. Of course you could also say that a desert is the perfect place for enjoying yourself in a 4x4. It's hard to beat the fun of dune driving, or the sight of a huge, inviting open area in front of you with no tracks in sight. Of course desert trips aren't for the unprepared; you'll need to know how to self-recover if you get stuck - sand channels are your friend here - and have all the kit needed for minor repairs. You'll also need plenty water and a good set of maps. In the last few years more and more people have been turning to Hema's excellent Great Desert Tracks series.
Now all five maps are available in a handy book format. The Great Desert Tracks Atlas & Guide has 80 pages of map sheets combined with a whole load of other useful information. There's all you'll ever need to know about the natural history of Australia's deserts, a good guide to safety and preparation, detailed maps of desert trails and much more. Campsites are clearly shown on the maps and there are also contact numbers listed for them. Best of all, you'll find detailed descriptions and routes for 28 great desert treks, put together by some of Hema's desert driving experts.

This guide is illustrated with fantastic colour photos, many of them from Hema's own desert expeditions over the last few years. If you like deserts you really need this.


Details:
Size: 215x297mm Spiral bound
Pages: 272
Edition: 2nd
Published: 2010
ISBN: 9781865005423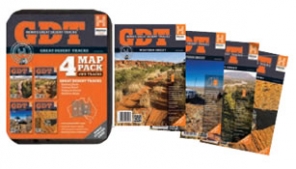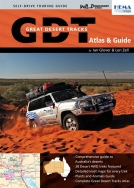 Of course you can also get the original maps, either individually or as a full set:
Great Desert Tracks West Sheet (ISBN 9781865006246)
This is a double-sided map with the northern area on one side and the south on the other. All mapping is newly updated with the Hema Map Patrol's latest GPS survey results, so you won't find more accurate mapping anywhere. As usual with Hema maps you get full details on where to get fuel and other supplies, permit details and contact numbers and a load of handy info for finding interesting places. It includes details on these routes:
Gunbarrel Highway
Great Central Road
Connie Sue Highway
Nullarbor Plain
Canning Stock Route
Talawana Track
Great Sandy Desert
Great Desert Tracks Central Sheet (ISBN 9781865006253)
This is another double sided map and again it's based on the latest GPS survey data. Like the West sheet the new mapping uses colours to give you a better idea of the relief of the ground, and it works really well. All these desert map sheets are printed on waterproof and tear-resistant synthetic paper, so no matter how hot it gets the map isn't going to fall to bits in sweaty hands. Get this map for details of:
Goog's Track
Nullarbor Plain
Oodnadatta Track
Anne Beadell Highway
Tanami Road
Gary Junction Road
Sandy Blight Junction

Great Desert Tracks East Sheet (ISBN 9781865006260)
Another double-sided map just like the last two. It shows you:
Strzelecki Track
Birdsville Track
Oodnadatta Track
Corner Country
Plenty Highway
Sandover Highway
Lake Eyre and more

Great Desert Tracks Simpson Desert (ISBN: 9781865006277)
Completing the set, this map of the Simpson Desert has 1:1,000,000 mapping on one side and more detailed 1:500,000 on the other. Like the other three in the series it's packed with information on facilities, routes and terrain
Great Desert Tracks Map Pack (ISBN: 9781865006284)
Get all four of the maps in a protective wallet.

Great Desert Tracks Pack

A soft durable map wallet that houses Hema's iconic suite of Great Desert Tracks maps.
Click here to buy
Great Desert Tracks Pack
.

Great Desert Tracks Maps

The Hema Great Desert Tracks range covers the 4wd tracks in Australia.
Click here to buy
Great Desert Tracks Maps
.