Tred 4x4 Product Review
Australian TRED Recovery Device
You work hard and play hard, so the last thing you want is to be stuck. Even the easier 4WD tracks where camping, canoeing, and swimming areas offer rest for you and your mates, still require a means to get yourself out of a jam. This is where the Australian TREDs can help you in a pinch. This total recovery and extraction device works great to get you out of sandy or boggy areas.
Your high quality, Australian TREDs, designed and produced by Australians for those Australians who enjoy the thrills found with off road destinations, have kept your safety and budget in mind. A pair of TREDs will help you regain the traction you lost in snow, slime, sludge, sand, or mud, while saving you money.
The off roader who takes in the roughest tracks in the Northern Territory, especially the rugged areas where you do not want to spend much time in the water because of crocks, know that getting yourself unstuck "fast" can be essential. When you are far off road, driving through the desert or even crossing one of the many rivers, the security of the Australian TREDs gives you the chance to make a clean escape.
Each pair of Australian TREDs are made of the strongest polyolefin materials and come in two sizes, the 1100 and the 800. The ramp entry teeth and hex grip can handle the most aggressive levels of impact, weight, torque, and flex. TRED offers impressive results by eliminating the need found in equipment involving shackles, winches, snatch straps, and steel cables. For the most hazardous recovery, your pair of TREDs will give you the advantage to use them with the extra equipment.
Whether you pick the 800 or the 1100 your set of TREDs give you the confidence to explore all of the Australian off road tracks, including the Outback, without letting traction disrupt your journey. A set or two of TREDs on board can save you valuable time and money while eliminating most of your safety risks. For sure, you will not want to be the feature of someone's outback gallery, showing your car, that is now rusting its way back to nature on one of the Outback's Australian deserts.
Since some areas are so remote, you need to take plenty of supplies with you, for it can be hundreds of kilometers between towns and people. This rugged terrain across the Painted Desert is not for the weak or faint of heart. If you are lucky, you will remember to fuel up in Glendambo because it is the last fuel station until reaching Cooper Pedy. Along the Oodnadatta and Birdsville Tracks, beware that many roads become blocked and flooded if it rains. This is where your TREDs can definitely help you from being stuck in the sand and muck.
Even drivers who are not off road can use the help the TREDs offer if the roads are blocked. A TRED is specifically designed for areas with tight constraints and for smaller 'jeep type' vehicles. When traveling in areas that could result in loss of traction your TREDs offer peace of mind. TRED 1100 has even helped mining, government, and construction sectors pull bobcats and forklift equipment from deep sand and boggy ground. Enough said, since you already know the importance of adding a set of TREDs to your recovery kit if you ever travel off road or into outlying areas. When you need them, one or two pairs of TREDs can give you a much better chance to take your family, yourself, and your vehicle safely home.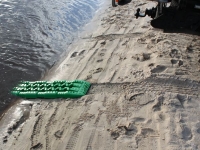 TRED Recovery Ramp Tracks
TRED recovery ramps are made from moulded plastic and are available in lime green colour. They have smaller lugs than most other competing recovery devices.
These tracks are shorter than their competitors which may make them easier to store but potentially more difficult to escape a large boggy area.
Visit the
TRED Recovery Device
page for more information.
Get In Touch
Please use the form below to contact Tough Toys via email.
Advertising
---